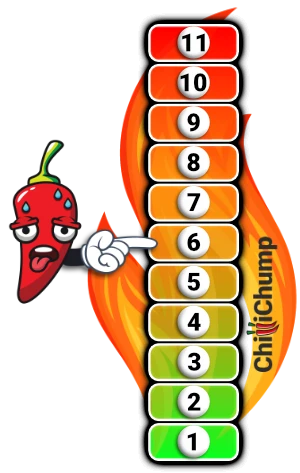 Traditionally chilli peppers spice level is measured in Scoville Heat Units (SHU). While we will try give a SHU estimates for most of our chilli seeds, we will also be using the Chump-o-Meter which we believe will give a better indication of the amount of heat to expect!
1 on the Chump-O-Meter has practically no spice to it and includes chilli peppers like the Ramiro, Bell Pepper and the Trinidad Perfume.
2 and 3 will be chillies like the Jalapeno, Cayenne and Poblano.
4, 5 and 6 include Thai Chillies, Piri Piri and Ring of Fire.
7 and 8 is where things really start to heat up and include chillies like the Habanero, Scotch Bonnet and Fatali.
9 and 10 is where Superhots start to make an appearance, like the Bhut Jolokia (Ghost Pepper), 7Pot Primo and Dorset Naga.
11 is reserved for the hottest of the hots. Primotali Chocolate and the 7Pot Bubblegum definitely have this rating!